Snow Foam, Foam Lance, Foam Cannon, HD Foamer, Call it what you will.
Hi All
As promised,
Below is the direct purchase link to the HP Foam Lance only.
Purchase Lance Here
Purchase Foam Gun Here
For those chasing the Foam Gun I will update this again as soon as my order arrives
If anyone has any questions or concerns please call me directly on 0458 966 399
There is a limited number so please don't wait until the last minute, as I take no responsibility for missing out.
Pay Pal is accepted, however Direct Deposit is preferred.
Confirmed Orders
Me, Lance Karcher Foam Gun
TegBoy Clint, Foam Gun
Marc, Marc Lance Karcher
Sparkles Kirk, Lance Karcher and gerni
SUSWGN Kane, Lance Karcher
squareznboxez

Daniel Foam Gun
I am in the process of ordering some products and have come across a source of High quality Profesional HP Foam Lance's, So I thought I would post it up here and see what interest there is from other MEA members in order to get better buying power on more quantity's.
For those of you that don't know what I'm talking about, the foam lance is an attachment for your pressure washer that produces a very thick layer of foam on the surface of your car. This will aid in lifting the dirt and grime of the surface reducing the chance of scratches and swirls on your cars paint. (refer image & link below)
Anyone that is into detailing or conscience of using quality car care products will agree with me in saying these are a huge asset to your car washing arsenal, and a must have for the professional and or enthusiast.
Just before any one jumps on me, I have spoken with Marc about this and have his approval.
This is not a group buy, more of an opportunity to offer MEA members a pre purchase discount on a limited number of units that will be purchased. If there are enough members who are genuinely interested in buying a lance I will make further enquires as to what sort of discount I can pass on.
All orders will be directed to another website for purchase which will be posted at a later date if the interest is shown.
These style of Foam lance's currently sell between $130 & $160, in most cases these prices are + pressure washer fitting and + Postage.
I would hope to get enough interest for 10+ units in order to gain a discount worth proceeding with.
My current estimate on price is around the $100 mark
The below Picture and link are for example only (random from Google
)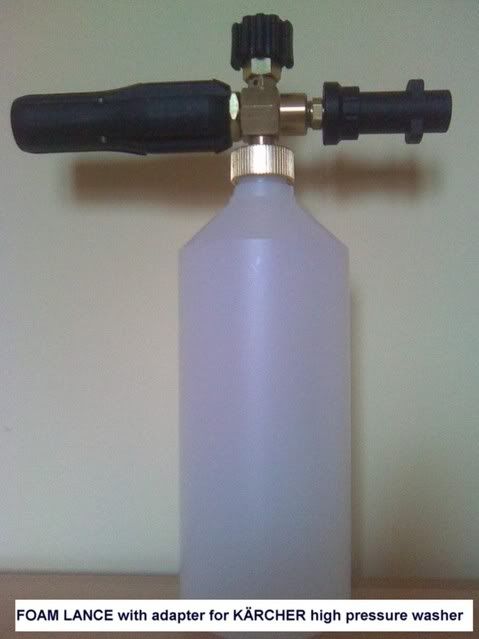 Those of you that have a genuine interest please pm me or post up in this thread your interest and type of pressure washer fitting attachment.
Again if the interest is shown I will pursue this and make an update in the next week or so with some more concise information on product and price.
Cheers Toad
Edited by The Toad, 10 October 2011 - 10:05 PM.