Ok ive just gone into planning stage for my sub boxes, but will need a massive hand designing the port
Firstly the factory spec is for 1.6 cubic feet max for these subs, but ive had alot of people say thats too small so i am going for around 2.2-2.5 tuned to 40 hz
These are the subs: Pioneer TS-W3002D2.
http://www.sonicelec...TS-W3002D2.html
But im not buying them from there, just the best specs list i could find
I dont know whether to go a round port, or a slot style port, nor do i know what size i need
This is the basic box design (2.54 cubic feet if made using 16mm MDF, 2.42 if i use 18mm)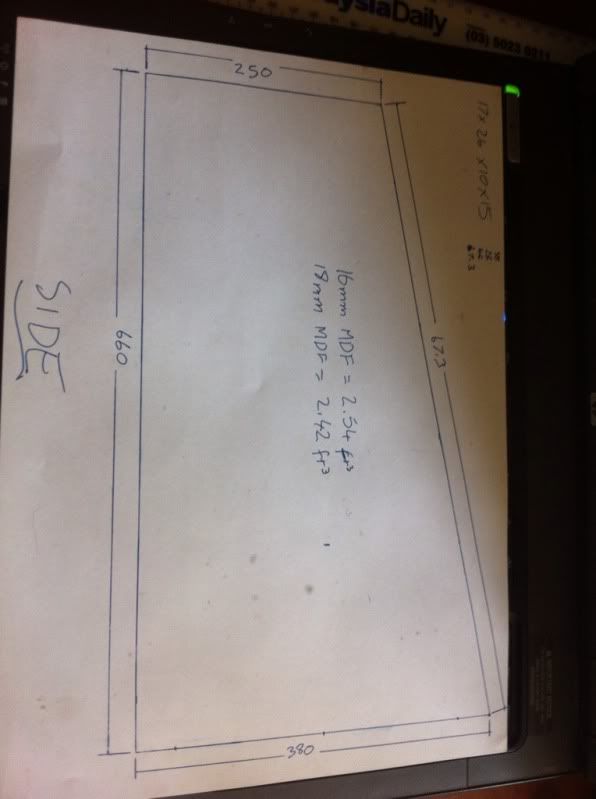 Keep in mind i drew these for a sealed box, but wrote the dimensions for this box, so i would offset the sub to the side slightly to allow for the port to come through if it is a slot port.
I can adjust this slightly but not heaps.
Questions are:
Slot port or round port?
If its a round port what size/length and where should it be placed on the box?
If its a slot port, what dimensions should i make it? (maximum is 2 inches wide)
Should i be aiming for a different tune in the box than 40 hZ. I listen to alot of rock/metal aswell as a bit of techno and stuff so i want it to be able to get the higher stuff aswell as the big bass parts of the techno stuff
Sorry if this doesnt make much sense, its got me pretty confused but ive tried to make sense as well as possible.
I used this calculator here to have a play with port sizes but i dont really know what to aim for
http://www.mobileinf...ort lenth 1.htm
For a 2 inch wide slot port, in a 2.5 cubic foot box i got this
35 Hz: 18.47 inches long
40 Hz: 12.90 inches long
For a 4 inch round port i got:
35 Hz: 8.13 inches
40 Hz: 5.54 inches
Thats all i played with because i dont know the advantages of a larger round port over the 4 inches that i decided to put in.
Any help would rule
Edited by Dylby1, 06 April 2012 - 01:34 PM.